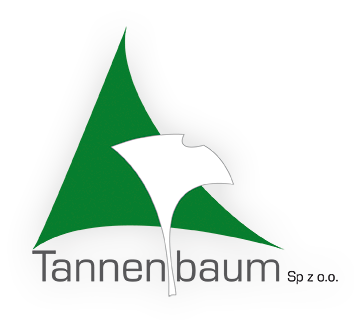 Tannenbaum Sp. z o.o. has its seat in the Lubusz Land, near the border crossing Frankfurt Oder/Slubice.
In 1989 Paul Nieder, the senior, found Tannenbaum Sp z o.o. in Radzików and since then the company has been specialising in the cultivation of decorative brushwood, Christmas trees and the refining of natural products. Our purpose is full customer satisfaction! We serve large customers individually offering absolutely fresh goods, based on good logistics and on-time deliveries. We put a special emphasis on the product durability and our feature is ecological and social responsibility!
Thanks to our specialist knowledge and many years of experience we are able to meet every requirement of our customers!
We warmly invite you to contact us!
We start with seeds ...
Our production has its beginning with the sowing of seeds. We do it ourselves and in our company, we have plant nurseries according to future needs – whether it's a fir or a Christmas tree. The plant nursery together with FSC certificate plays an important role.
...and we grow Christmas trees
In our company you will find trees of different sizes and quantities, such as Nordmann, Nobilis, blue spruce and others.
Our final products are cut trees or planted in pots.
In the future, we will pay attention to the cultivation of 'potted Christmas trees' more intensively, thus making containerised plant production a new focus of our work.
Thanks to the state-of-the-art machines, we continuously improve and optimise our production processes and create a positive working environment.
We produce flower compositions for you!
Spring, summer, autumn, winter – at any season of the year or on any holiday occasion, such as Easter, Mother's Day or Christmas, we are able to offer you flower compositions according to your needs or with your own ideas.
Decorative brushwood and fir
Decorative brushwood is produced according to our needs, for instance, for grave decorations, for Advent wreaths or various floral arrangements, often also decorative bouquets, dyed in fresh spring colours or according to special wishes of our customers.
We give this "something special" to natural products.
Thanks to our many years of experience and our commitment to protection of nature and durability, we paint or preserve natural products with special paints that meet the requirements for toxicological properties in accordance with DIN EN 71-3 (Safety of toys). If the instruction for use is followed, our products do not pose any risks.
Decorative and daily use products
You will find natural products for daily use.
Our nature offers many opportunities to create something that becomes very interesting when used in floristry, commerce or hobby. Direct supply from our company can be of great importance to you, as we have access to certified basic materials.
What makes us different?
We work as a team and cooperate with a long-term partner, which means our strength in production and logistics!
Fresh products!
Our advantage is the speed of action!
Thanks to the automation of processes and proper planning, fast production of large quantities of fresh products is our daily business!
Flexibility!
Transport and packaging units
The production of articles, packing according to assortment and focus on timely delivery – all according to customer needs! Our- mostly reusable- transport means are CC and EC trolleys, pallets or boxes, i.e. all commercially available packaging units – according to the customer's wishes.
Worldwide reach!
Suppliers from all over the world
Over the years we have made contacts with reliable suppliers in Europe, the Far East and South Africa, where we purchase all dried plant elements, such as fir cones, dried flowers and other natural products or Christmas decorative items for florists.
Reliable team!
Permanent and seasonal workers
Permanent employees with many years of experience and young, highly motivated people develop high standards of our work. We also employ seasonal workers, if necessary.
Spring, summer, autumn, winter – at any season of the year or on any holiday occasion, such as Easter, Mother's Day or Christmas, we are able to offer you attractive and natural products.
Logistics location!
In the very centre
We are between Warsaw and Cologne, Poznan and Berlin, Gdansk and Munich, Hamburg and Vienna – ALWAYS IN THE CENTRE!
Thanks to the good connection with the A2 motorway, you can reach us free of charge after about 15 km from the Rzepin exit, or we can make quick deliveries in all directions!
Certificates

Tannenbaum Sp z o.o.
Radzikow 5
69-108 Cybinka
NIP: 926-00-04-666
REGON: 006090524
You can call us at:
Office in Radzików
Is German or English your contact language?
The contact person is Mr. Frederik Nieder in D-59909 Bestwig-Heringhausen in Sauerland:
Tel.-Nr.:  +49 151 588 98 562
E-Mail: mail@frederiknieder.de